Dinghaishenzhen, a stable and qualified Dinghaishenzhen of Kroneseder·Jama Petroleum Group
Release time:2022-3-16
On March 9, the China Quality Inspection Association, which is in charge of the State Administration for Market Regulation and Supervision, issued the certificate of "National Quality Inspection Stable and Qualified Product" to Kesaides Jiamei Petroleum Group. issued as a result of the announcement. The quality inspection of products is stable and qualified, which is the diligent pursuit of any enterprise, especially the real economy and manufacturing industry. He is also the manager of the three major brands of Kesaides Jiamei Petroleum Group - " Kesides - Jiamei", "Zhongxun Hi-Tech" and " Keside". He has a deeper understanding and pursuit of quality inspection.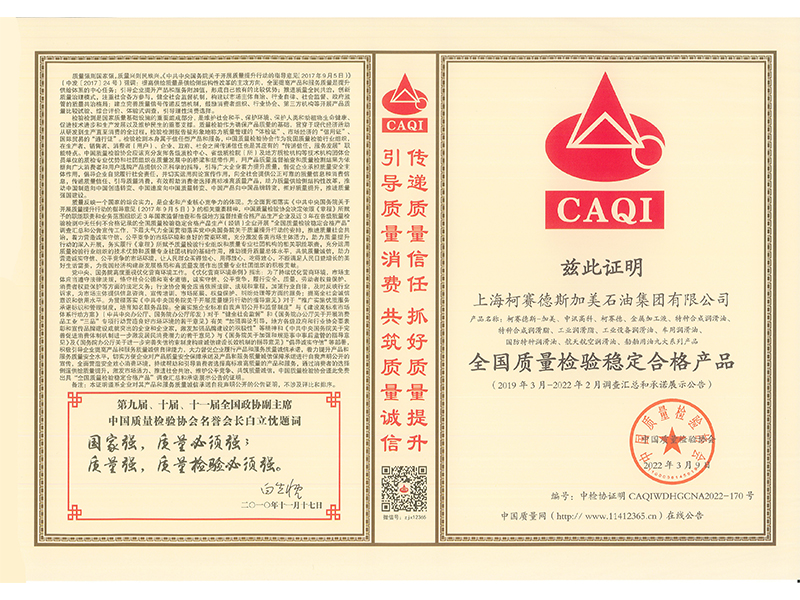 Ye Wenxian, chairman of the group, said: "Quality inspection is one of the most important levels for a brand. Without strict quality inspection, it is difficult for the brand and its products and services to promote support. The quality inspection of Kesai Desjiamei is in the 'three levels' aspect. Escort the brand, check for users, and warm the heart of the market."
The quality inspection "Three Checkpoints" of Kesai Desjiamei refers to the compliance with the ISO9001 international quality management system and the relevant provisions of the IATF16949 international automobile manufacturing management system, especially the requirements of the five quality manuals. Supplier management, material inspection, Process management and out-of-warehouse inspection and other phased requirements, use the process management mechanism, and check at every level, so that abnormalities and hidden dangers can be discovered and eliminated at the first time.
The key to the Group's effective implementation of the "Three Checkpoints" lies in the improvement of employees' quality awareness, the development of quality interest group activities and the establishment of a quality reward mechanism. "Quality Awareness" and "Quality Management" are not only written into the secondary document of their ISO quality management system - the quality manual, but also have specific descriptions in the "Employee Code" of the group company. At the beginning of the employees' many trainings, "quality awareness" and "quality management" were integrated into the training system. Engaging employees through quality interest groups makes it the new normal for quality management. All staff care about quality management, all staff participate in quality activities, and all staff bear the heavy responsibility of quality, becoming a Dinghaishenzhen with stable quality inspection and qualified and high-quality products.
Back