Zhongxun Lubricant is listed as a new brand in China's lubricant industry - LubTop2021 "China's new lubricant industry new brand" annual general evaluation list released globally
A few days ago, the LubTop 2021 "China Lubricant Industry Emerging Brand" annual general evaluation list released for the world kicked off. The Chinese national brand with "green high-tech, dedicated lubrication" as the brand feature - Zhongxun Lubricant was selected on the list and became the energy industry. The dazzling starlight continues to write a new chapter for Made in China.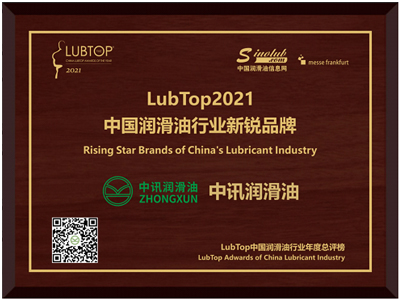 Brand lubricants are not only the carrier of petrochemical brands, but also one of the core business sectors of modern industrial manufacturing and automotive aftermarket.
With the continuous rapid development of China's economy, the continuous growth of car ownership and the continuous acceleration of the industrialization process, high-quality equipment lubrication services support the industrial development of the world's largest manufacturing country, and my country has become one of the world's largest lubricant oil consumers. , The market demand has attracted many lubricating oil brands at home and abroad.
Zhongxun Hi-Tech Investment Group, with the brand development concept of "green lubrication for the future, innovation to lead technology", takes the lubricant industry as a key development direction, in order to fulfill the mission of "helping national rejuvenation, revitalizing China's manufacturing, and escorting the machinery industry" to a greater extent. Brand mission, to contribute to my country's transportation industry.
The lubricating oil products of Zhongxun Hi-Tech Investment Group cover nine major fields such as industrial lubricating oil, automotive lubricating oil, marine lubricating oil, aviation lubricating oil, metal working fluid, special industrial equipment lubricating oil, etc. The product service and technical support cover China The 31 provinces, municipalities and autonomous regions in the Mainland enjoy strong brand influence in the industry.
The LubTop2021 "China Lubricant Industry Emerging Brand" award is awarded to outstanding lubricating oil brands that have outstanding performance in technological innovation, market performance, user satisfaction, and industry influence in the Chinese market, and have continued potential for future development.