Kroneseder Lubricants Receives Flanders Approval
Release time:2022-5-20
On May 12, one of the brands operated by Shanghai KRONESEDER: KRONESEDER wind power fully synthetic gear oil WT series products won another well-known authoritative organization with excellent quality—— FLENDER certified. It marks that KRONESEDER has obtained another eye-catching "professional pass" in the field of deep cultivation of green energy.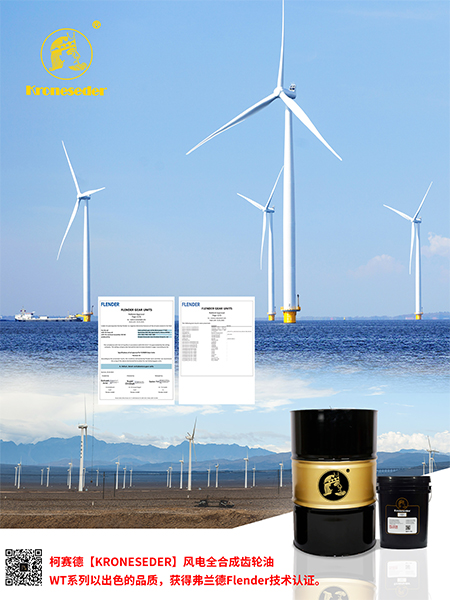 The Flender Group is the world's leading manufacturer of gearboxes and one of the world's largest manufacturers of specialized power transmission equipment. Founded in 1899, Flender has become a leader in high-speed gears with a long history of gear manufacturing. KRONESEDER wind power fully synthetic gear oil 150WT, 220WT, 320WT, 460WT, 680WT passed the Flender certification, marking that KRONESEDER brand lubricants of KRONESEDER have taken a strong step in the field of wind power and industry, serving China The wind power industry has brought more applicable and efficient Chinese wind power lubrication solutions.
The development of wind power, shipbuilding and aerospace industries also pays special attention to the performance requirements of lubricants. Studies have shown that the meshing tooth surfaces of low-speed heavy-duty gears are mostly in a mixed or boundary lubrication state, and the oil film ruptures and wears under the action of high shear stress and friction. Due to the special requirements of the fan field, FLENDER industrial gear oil certification, extreme pressure anti-wear performance, anti-micropitting performance, bearing protection performance, compatibility with gearbox coating materials, anti-foaming performance, There are comprehensive control requirements for seal material rubber compatibility and filtration performance.
"Keside" originated from Europe and the United States in the 1950s, and completed the registration of "Shanghai Kesides Jiamei Petroleum Group Co., Ltd." in the China (Shanghai) Pilot Free Trade Zone. After more than half a century of inspiration and precipitation, Keside has become a well-known lubricant brand integrating R&D, production, sales and service. Keside has core technologies and expert teams, and is committed to the integration and application of new thinking, new technologies, new tools and new processes in the energy industry, and has contributed a variety of high-quality lubricating oil products with powerful functions and strong effects to the world's lubricating oil field. , including nine series of fist products such as fan lubricants, automotive lubricants, industrial equipment lubricants, metal processing oils, special synthetic lubricants, and industrial greases.
Back