The "blood" of industrial equipment! See how the road of green lubrication is stable and far-reaching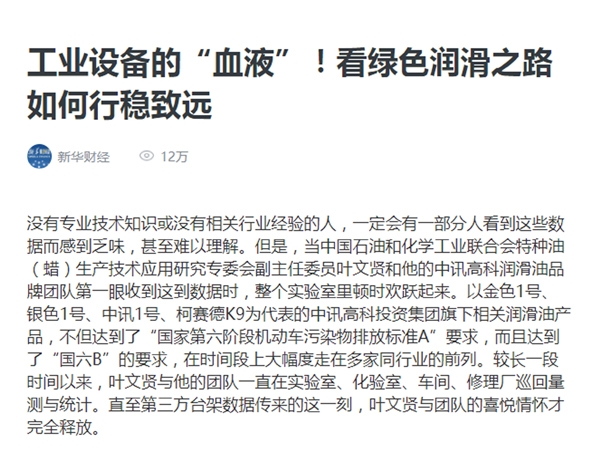 This article is reproduced from People's Daily/Xinhua Finance
Without professional technical knowledge or relevant industry experience, some people will definitely find these data boring or even difficult to understand. However, when Ye Wenxian, deputy director of the Specialty Oil (Wax) Production Technology Application Research Committee of China Petroleum and Chemical Industry Federation, and his Zhongxun Hi-Tech lubricant brand team first received the data, the entire laboratory Immediately cheered. Relevant lubricating oil products of Zhongxun Hi-Tech Investment Group, represented by Gold No. 1, Silver No. 1, Zhongxun No. 1 and Keside K9, not only meet the requirements of "National Sixth Stage Motor Vehicle Pollutant Emission Standard A", And it has reached the requirements of "National VI B", and has been in the forefront of many other industries in the time period. For a long time, Ye Wenxian and his team have been making measurements and statistics in laboratories, laboratories, workshops and repair shops. It was not until the moment when the third-party platform data came in that the joy of Ye Wenxian and the team was completely released.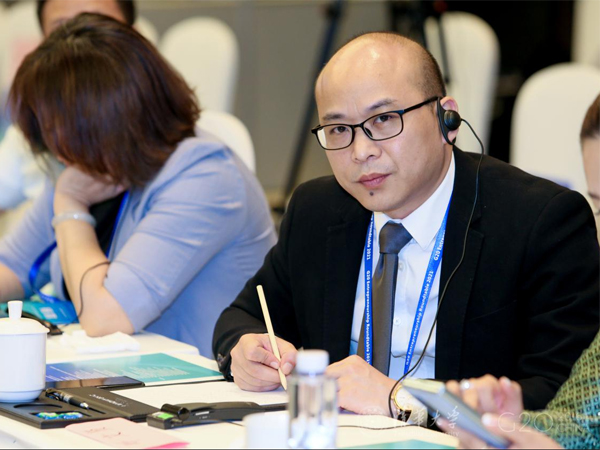 Ye Wenxian has been on the green and lubricated road for 17 years. As early as June 2005, when he resolutely decided to establish a foothold in the lubricant business, he laid the brand of green lubrication in his concept. At that time, Ye Wenxian deeply realized that lubricating oil, as the "blood" of industrial equipment, will play its unique role more and more with the development of industrial technology, including and especially the machinery industry. Later, Ye Wenxian proposed and continuously developed the concept of "green lubrication" at several related summits. He said that the continuous transcendence of functions, the prominent intensive effect, and the harmony of the environment are the development track of green lubrication.
"Without the big move of modern infrastructure, the big investment of high-level talents, and the big vision of future trends, the road to green lubrication cannot be smooth, stable and far!" This is Ye Wenxian's opinion on modern energy, including the development of lubricating oil. An increasingly firm understanding of the industry.
At the beginning of planning the lubricant factory in the core area of ​​the Yangtze River Delta, Ye Wenxian put forward various requirements such as "high-standard infrastructure, modern equipment, grid management, and personalized model". Since 2015, Ye Wenxian has visited many powerful giant factories, professional design institutes, equipment providers, talent training camps, R&D leaders and industry giants at home and abroad. Through field observation, data review, strength comparison, on-site office and other forms, the partners with powerful functions, high-quality services and first-class reputation are determined one by one.
Since 2017, the modern lubricant factory in the core area of ​​the Yangtze River Delta that Ye Wenxian personally controlled has entered a critical stage. In addition to participating in necessary official and business activities, he also pays attention to project supervision, facility progress, equipment installation and training effectiveness, and even participates in The verification of many details has become his important business. A series of major tasks such as new factory construction, new equipment installation, new process use, and new thinking research have been carried out under the focus of Ye Wenxian, achieving zero delay, zero internal error and zero rework. The planning effect, construction speed and production production of the modern lubricant factory in the core area of ​​the Yangtze River Delta have attracted the admiration of many peers in the industry, and also enhanced the confidence and combat effectiveness of all partners to expand the market. The factory adopts new fully imported and fully automatic lubricant production equipment, which realizes the mass production and stable production of Zhongxun Hi-Tech lubricants, the lasting stability of quality and the steady increase of output. Through the visual computer control center, the non-dead monitoring of the manufacturing base is realized, and the all-round monitoring requirements of the whole process that may affect the product quality and cause potential safety hazards have been implemented. Abnormal elimination and effective management bring about stable output, reliable quality and punctual delivery, which provides a strong guarantee for the market supply of Zhongxun Hi-Tech lubricants.
The dual brands of Zhongxun Lubricant and Keside Lubricant managed by Zhongxun Hi-Tech realize the integration of product research and development, market development and technical services, through repeated research and development of new thinking, new technologies, new tools and new processes Upgraded, successfully launched nine series of products including metal working fluid, special synthetic lubricant, special synthetic grease, industrial grease, industrial equipment lubricant, automotive lubricant, marine lubricant, national defense special lubricant, aerospace lubricant, The brand's "green lubrication", "strong and efficient" and "persistent protection" personality characteristics are solidified in the impression of consumers, which has become a new driving force for Zhongxun Hi-Tech to continue to grow stronger in the energy industry, constantly surpass itself, and continuously improve its development index.
In the future, Zhongxun Hi-Tech Investment Group will continue to focus on product quality, function enhancement, and user experience as the top priorities in terms of inheriting national business ethics, optimizing cooperation models, and promoting industrial upgrading, providing strong traction for brand development. Through the continuous upgrading and layout optimization of industries in North China, Northeast China, Southwest China, Northwest China and Central and East China, it provides the cornerstone of development for brand promotion, accurate service and optimization of cooperation. The main point is to let the majority of users feel more obvious brand charm and brand warmth, and let business partners look forward to a brighter prospect and future.