Infineum awarded the special technical support unit of Kroneseder·Jama Petroleum Group
After the new year of 2021, Kesai Des Jiamei Petroleum Group has developed a strategy of innovation and technology upgrading, which once again helped to add a new force for development. One of the additive giants in the global lubricant industry, Infineum (Shanghai) Additives Co., Ltd. originated from Milton Hill (Milton) in Western Europe, made a decision to grant the group a "special technical support unit" and listed it as a gift.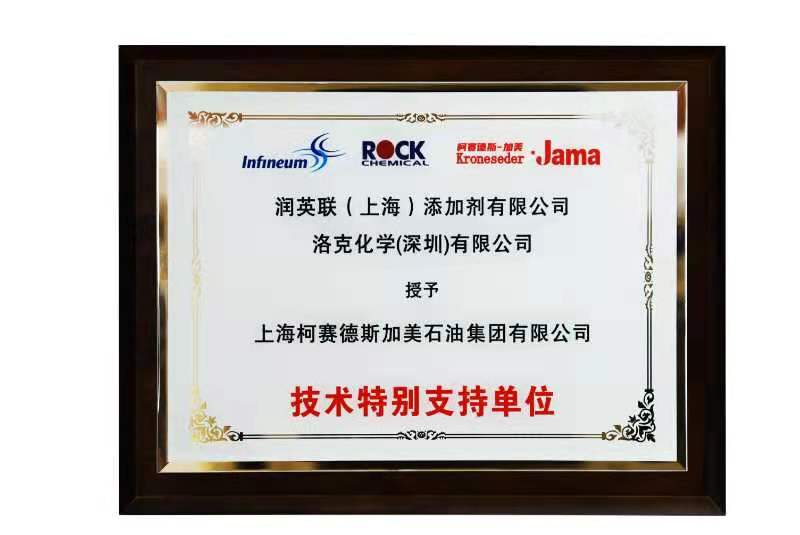 Infineum is a global leader in the R&D, production and sales of lubricants and fuel additives. Its business scope also includes the transfer of its own technological achievements and the provision of related technical consultation and technical services. The company's products are primarily used in automotive, heavy-duty diesel and marine engines and diesel fuels, as well as special additives for small engines, automotive transmissions, gas engines, and industrial oils. They work closely with numerous oil companies, other lubricant and fuel companies and original equipment manufacturers (OEMs), have business and technical centres in the UK, US, Singapore and China, and market to more than 70 countries around the world.
In the process of deeply cultivating the energy industry, Kesai Des Jiamei Petroleum Group has continuously strengthened its own brand building, including the upgrading of R&D and innovation centers, so as to improve and extend product functions, technical services and collaboration, market expansion and authorized marketing, etc., in line with the times. Keep pace with development, improve and enhance the cooperative relationship with agents in various regions, so that many partners can take the initiative to transmit and feedback from the market voice. After the epidemic prevention and control since 2020 has entered a new stage, Kesai Des Jiamei Petroleum Group took the initiative to respond to the complex and ever-changing domestic and overseas situations through a variety of measures, dedicated to the sake of users, and went all out to guide and support local agents. The service market has realized the rapid recovery of the market, and the growth rate has reached the forefront of many peers in the industry.
Expansion of contacts and collaboration with giants in the energy industry, through mutual information exchange and technical cooperation, service complementarity and management exchange and a series of resource integration, is the consistent philosophy of Kesai Deskamei Petroleum Group. Wu Lifen, general manager of Shanghai Kesai Des Jiamei Petroleum Group Co., Ltd., said: "Technology-based enterprises not only cannot work behind closed doors, but also must have the mind and wisdom to form a relationship with cutting-edge enterprises in the stronger and larger industry. As a leader in the energy industry, Infineum The giant has a particularly huge influence and innovation in the world. Granting us a special technical support unit is not only our honor, but also a strong boost to our development. We must cherish each other's cooperation opportunities and have sincere gratitude. , Seize the opportunity for development!"